Canandaigua Florist - Flower Delivery to Canandaigua
Florist Canandaigua New York
Fresh Flowers, Plants and Gifts
Welcome to Rockcastle Florist. We offer the largest selection of farm-fresh flowers including gorgeous full bloom hydrangea, Ecuadorian roses, cymbidium and dendrobium orchids and other fresh cut flowers in the Finger Lakes New York area. Our gorgeous sunflowers, Holland tulips and beautiful stargazer and oriental lilies are simply stunning. We also offer lots of seasonal specials, so we encourage you to shop our website, or stop by either of our 2 floral design centers to see all the great floral varieties we have available. Rockcastle Florist employs a professional design team who is known throughout Monroe County for their unique, artistic floral designs. We create traditional, contemporary and modern metropolitan flower arrangements.
Local Same Day & Express Delivery | Nationwide Same Day Flower Delivery
Deliver Flowers to Canandaigua Area Funeral Homes
View our Sympathy Collection of Flowers send a beautiful arrangement of funeral flowers from our local flower shop to show your support to friends and family during a difficult time. All of our funeral flower arrangements are available for same day delivery.
Canandaigua Funeral Homes
Restrictions
Fuller Funeral Home
190 Buffalo St
Canandaigua, NY 14424
Phone: (585) 394-2220
www.fullerfh.com
Johnson Kennedy Funeral Home
47 N Main St
Canandaigua, NY 14424
Phone: (585) 394-4280
www.johnsonkennedy.com
Kennedy & Son Funeral Home
15 Bristol St
Canandaigua, NY 14424
Phone: (585) 394-4141

Additional Information for Canandaigua
For additional details about our same day flower delivery service to Canandaigua and to view bestsellers for Canandaigua, please take a moment to visit our Canandaigua delivery page.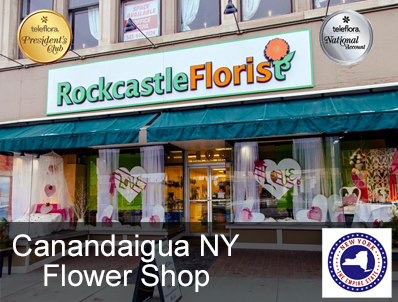 Canandaigua Flower Shop
(585) 394-2542

100 S Main St.
Canandaigua, NY 14424
Get Directions »
Serving Canandaigua
Canandaigua Flower Delivery Options
We offer same-day delivery of fresh flowers, roses, planters, cookies, and occasion flowers. Learn more about our Canandaigua flower delivery options.
Canandaigua Neighbors
Avon
Bloomfield
Brighton
Brockport
Churchville
Clifton Springs
East Rochester
Fairport
Fishers
Gates
Greece
Hamlin
Henrietta
Hilton
Holley
Honeoye
Honeoye Falls
Irondequoit
Livonia
Mendon
Newark
North Greece
Palmyra
Penfield
Phelps
Pittsford
Rochester
Rushville
Scottsville
Seneca Falls
Spencerport
Victor
Walworth
Webster
West Henrietta
Williamson