East Rochester Florist - Flower Delivery to East Rochester
Florist East Rochester New York
Premium Fresh Flowers, Plants and Gifts
Rockcastle Florist offers the finest, freshest, highest quality floral products in the Finger Lakes NY area. We provide same day and express flower delivery to customers in Rochester and throughout Monroe County. Our firm has been in existence since 1959. Customers love the fact we offer the best selection of fresh cut flowers in Rochester. We operate a gorgeous floral design center right here in Rochester and and invite you to visit some time soon. Every arrangement we sell comes with our 100% customer satisfaction guarantee. If for any reason you aren't satisfied with the arrangement we deliver, contact our floral design center. We will replace that arrangement with one of equal or greater value, free of charge.
Local Same Day & Express Delivery | Nationwide Same Day Flower Delivery
Additional Information for East Rochester
For additional details about our same day flower delivery service to East Rochester and to view bestsellers for East Rochester, please take a moment to visit our East Rochester delivery page.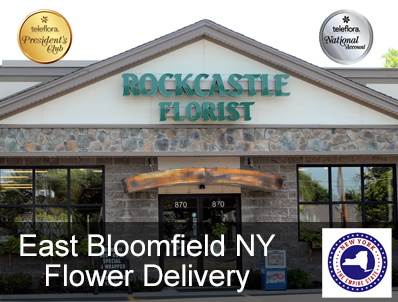 Serving East Rochester
East Rochester Flower Delivery Options
We offer same-day delivery of fresh flowers, roses, planters, cookies, and occasion flowers. Learn more about our East Rochester flower delivery options.
East Rochester Neighbors
Avon
Bloomfield
Brighton
Brockport
Canandaigua
Churchville
Clifton Springs
Fairport
Fishers
Gates
Greece
Hamlin
Henrietta
Hilton
Holley
Honeoye
Honeoye Falls
Irondequoit
Livonia
Mendon
Newark
Palmyra
Penfield
Phelps
Pittsford
Rochester
Rushville
Scottsville
Spencerport
Victor
Walworth
Webster
Williamson